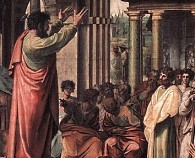 Study of the Book of Acts and Paul and his teaching.
Contents of the course
Acts
Paul's life and ministry
Paul's teaching
Texts for the course:
The Bible. A translation in your native language is preferred. An English Bible as a reference.
The Baker Illustrated Bible Handbook - J.D. Hays and J.S. Duvall, eds. ~ 210 pages selected.
Prerequisite:
BI-1303 New Testament Survey
3 credit course