Theological English (PS-4003) is an introductory course for theological studies, as the full name of the course puts it: "Theological English: Introduction to Theological Studies in English."
However, this is also an ESL/EFL* course designed for high-intermediate to advanced learners of English. It means you must be able to read and use general English already, and with this course you will learn to read and use theological literature in English.
You can study this course as a stand-alone course, or as preparation for your further studies in this area.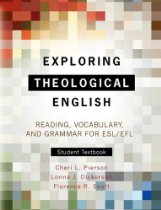 The theological content of the course is as follows:
- Starting with the Bible
- Introducing Theology
- God
- Revelation
- Humanity: Anthropology
- Jesus Christ: Christology
- Holy Spirit: Pneumatology
- Salvation and the Christian Life: Soteriology
- Church: Ecclesiology
- Last Things: Eschatology
- Determining God's Will in Day-to-Day Situations
Textbook for the course is Exploring Theological English. It follows the classic structure of systematic theology. Each chapter is based on a theological subject (see the contents here), and has five or six major sections presenting new information and/or exercises (the book is as much a workbook as a textbook). The student acquires key reading skills, a broad general vocabulary, and familiarity with the important concepts and terminology used in theological texts. (Buy the textbook here.)
This course (3 credits) equals approximately 150 hours of academic work.
3 credit course
________
* ESL/EFL = English as a Second or Foreign Language
Note: If you are buying your books online, please use the links provided above (or here).
This way we get a commission, but you don't pay anything more than usually.